Dear Diary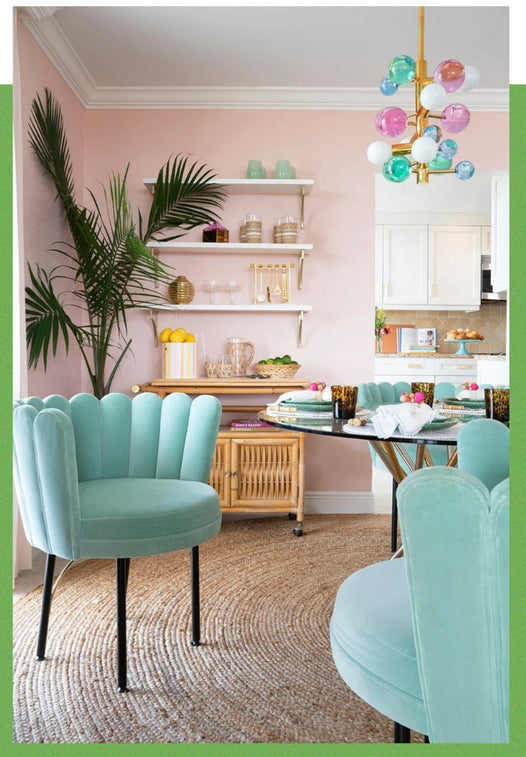 The Modern Golden Girl
Did you see Domino's recent feature of Katie Sturino's fabulous new Palm Beach pad? PBR happily loaned a few carefully selected pieces to help flesh out the Megababe founder's already gorgeous décor, and we were absolutely thrilled with the stunning results. 
A few vintage rattan pieces, a whimsical wicker chair and a blingy bar cart (all still available for purchase) added just the right touch of warmth and texture to Katie's candy-colored, gloriously pattern-filled feminine abode. 
Want to get the entrepreneur / influencer's Modern Golden Girl Chic style? Here are a few ideas using some of our favorite #PBRFinds… 
We loved how Katie used upholstered consoles as both a desk and a vanity. What a great way to add softness to a space and incorporate a bold fabric. These consoles aren't easy to find, but we have one! Add a cozy chair upholstered in the same fun fabric and then top it off with a mirror, a lamp and a few unique accessories. We highly suggest layering in a coordinating wallpaper too! 
Granny Chic Upholstered Console
A big airy coffee table brings a necessary modern edge to balance the frill in Katie's living room. A clear table takes up no visual space and allows the rest of the elements in the room shine. To get the same effect, try this oversized lucite beauty. We think it has just the right mid-century vibe. Just add books and objects d' art to nail the look. 
Katie purchased her stunning dining room chandelier and then based her entire color scheme around it. The glossy pastel piece provided the perfect inspiration for every room in the home. A great chandelier can also act as a focal point, which is especially important in a room filled with vibrant pattern and color. To get the look, consider this beautiful lavender Murano glass fixture. It's dripping with charm and oozes sophistication, but it's still playful and fun.
Petite Lavender Murano Chandelier
And speaking of playful and fun, we are obsessed with the folding bamboo bar cart Katie borrowed from us. It's multi-purpose, can go anywhere, and will bring a little bling to the party. Use it for cocktails, for bath accessories, or style it with books and plants. This pretty piece is still available in the shop and is begging for a Modern Golden Girl to give it a home.
Faux Bamboo Folding Mirrored Bar Cart
Be sure to read the full Domino article for lots more décor inspiration. Then head to PBR, where we'll help you get the look!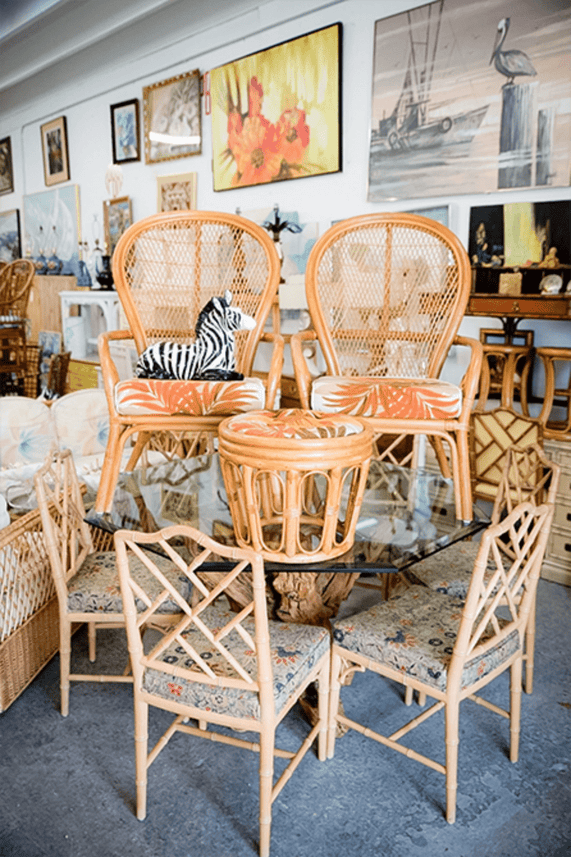 VISIT OUR SHOP
850 OLD DIXIE HIGHWAY
LAKE PARK FlORIDA 33403
TUESDAY THRU FRIDAY: 11:00 AM - 5:00 PM
SATURDAY: 12:00 PM - 4:00 PM
561.252.7381