Dear Diary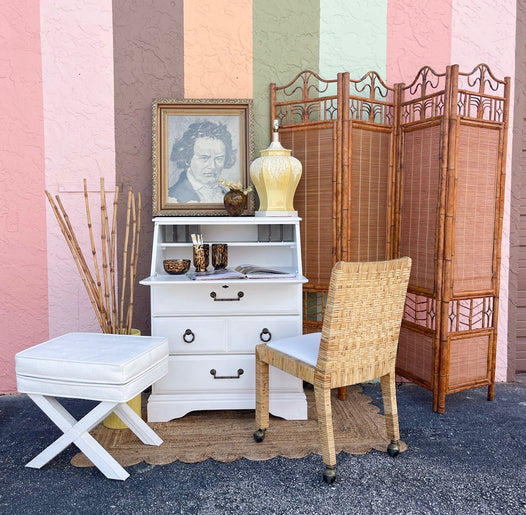 Back to School
Summer is officially over, and the kids are (finally) back in the classroom. It's time to set your little scholars up for academic success, and the best place to start is with a fresh new workspace!
At PBR, we believe workspaces don't have to be big-box store eye sores. Vintage is not only chicer, but it's usually better quality and made to last, especially when it comes to hard-working pieces like desks.
Here's some of our favorite back to school must haves:
THE DESK:  We love this fabulous faux bamboo desk. The cheerful yellow finish is enough to make even the most reluctant student enjoy their homework. It comes with four drawers for plenty of storage space and a cute matching chair. If yellow isn't your hue, we have similar desks in more neutral shades of cream, and as always, we are happy to help arrange a fresh new custom finish on any of our pieces.
Yellow Thomasville Faux Bamboo Desk and Chair
THE BOOKSHELF:  Picking our favorite bookshelf is almost impossible at PBR since we have so many unique styles, but we are extra fond of anything made of tortoiseshell bamboo, and this little folding Island style etagere fits the bill. It's small enough for the little ones to reach the top shelf but still has plenty of room for books and other essentials. Plus, it looks good in any room and can blend with many different wood tones and decorating styles.
Island Whimsy Folding Rattan Etagere 
THE CART:  We love a great Bar Cart in every room, but for a kid's space, a cart is a great place to store a printer and/or a laptop. This Lucite Cart has the cool factor kids want, plus it has two shelves to store paper and supplies. It even has wheels, so it moves around easily, just in case you want to use it for cocktails AFTER the kids go to bed.
THE LIGHTING:  A table lamp is a great choice when it comes to the best lighting for reading. Stash a comfy upholstered chair in a quiet corner and pull up this Roche style beauty to create the perfect little reading nook. We suggest adding a dash of fun with a colorful printed lampshade. This will be one area you might want to steal from the kids. 
Come visit the PBR team for more ideas of how to set up the ultimate study zone. And check out our newest selection of desks, carts, lighting and bookshelves on our website.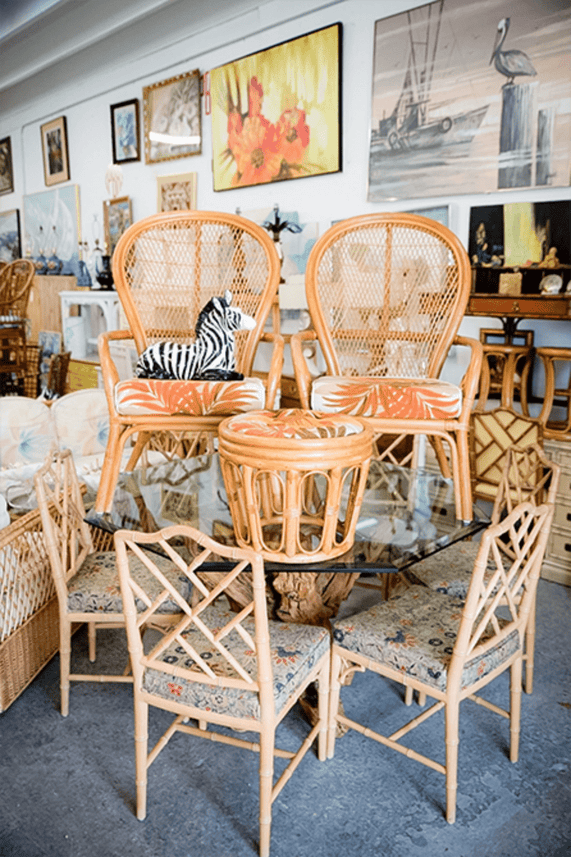 VISIT OUR SHOP
850 OLD DIXIE HIGHWAY
LAKE PARK FlORIDA 33403
TUESDAY THRU FRIDAY: 11:00 AM - 5:00 PM
SATURDAY: 12:00 PM - 4:00 PM
561.252.7381