Dear Diary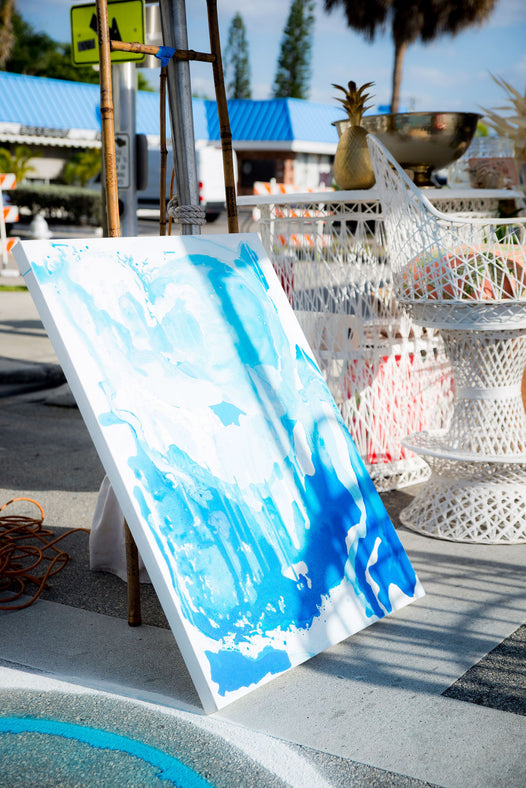 Summer Dream House
May is the perfect time to get your home ready for summer, and PBR has the goods! When we think about the quintessential summer home, we think of The Hamptons. And when we envision our beach chic home there, we think BLUE AND WHITE!
Of course, it's not necessary to own a place out east to get this classic summer look. Blue and white freshens up any home anywhere. But just for fun, here's how we'd summer-ize our Hampton's dream home with our favorite #PBRfinds.
First, we'd start with an incredible piece of statement art like the one featured here. This fabulous piece by Laura Rathlev, a local artist, is fresh and bold. It's interesting enough to set the tone and color scheme for an entire space. It's not your typical navy blue, which we love, but we think it's a more modern take on classic blue and white. Plus, we love how it evokes the watery blues of the private beach at Gurney's, where we'd like to be enjoying a cocktail right about now. Contact us if you're interested in this special piece of art.
Next, we'd pull in pieces that coordinate with the art, like this Faux Bamboo and Cane Outdoor Dining Set. Every summer house needs a place for alfresco dining, even if you're serving take-out from Bilbo. We adore the juxtaposition of the punchy blue seat cushions against the timeless design of the table and chairs. With this set we wouldn't bother re-upholstering. It's great just like it is! 
Faux Bamboo and Cane Outdoor Dining Set
Also essential for our summer dream house? This Draped Wicker Chaise. Late nights out at The Surf Lodge can be exhausting, and this piece is the ideal place to relax and recover the next day. We think this gem works anywhere in a summer home—outside by the pool, in a bedroom, or in a living room. We'd put it wherever we need an extra dash of style and comfort.
Palm Beach Draped Wicker Chaise
And finally, we'd serve delicious summer snacks in this chic, white Clam Shell Bowl. Vintage tabletop pieces truly make entertaining more special. Keep it filled to the brim with chips, dips, fruit, veggies or anything that pairs well with a cold glass of rose. 
Are you ready to get your own home ready for summer? Come see us! We're happy to help. In the meantime, stay tuned for our Summer Edit, coming soon.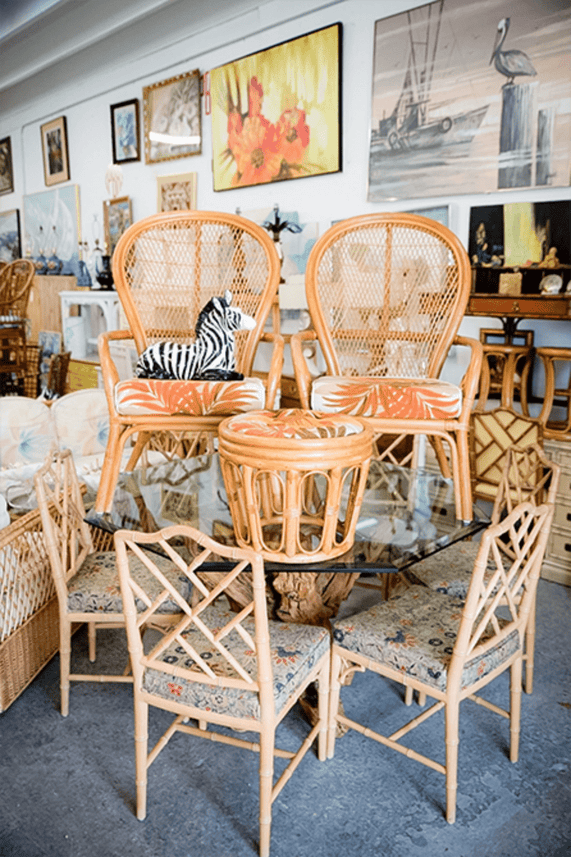 VISIT OUR SHOP
850 OLD DIXIE HIGHWAY
LAKE PARK FlORIDA 33403
TUESDAY THRU FRIDAY: 11:00 AM - 5:00 PM
SATURDAY: 12:00 PM - 4:00 PM
561.252.7381