Dear Diary
PBR + Kips Bay Decorator Show House
What's the secret to having a home as beautiful as this year's Kips Bay Decorator Show House in West Palm Beach?  Shop at PBR!
In this year's show house, nine designers featured 28 PBR pieces. And now they're back in stock and FOR SALE! Here's a few of our favorites that are still up for grabs:
This gorgeous Faux Bamboo Desk and Chair looked so fresh and crisp against the bold floral wallpaper in Tiffany Brooks' "Bloom Lounge." The sunny yellow seat cushion was a fun pop of unexpected color, and the bold bamboo motif of the desk added just the right touch of classic Palm Beach.
For a bit of whimsy Brooks chose this adorable ceramic Dalmatian pup, and she wasn't the only designer who had puppy fever! Alecia Johnson of Pearl Design Interiors used an identical PBR Dalmatian on her outdoor patio she entitled "Afficionados Dream." 
Every Palm Beach Home needs a peacock chair. Designer Tish Mills Kirk gets that, but she put her own spin on the iconic look by choosing one with a coat of silver paint and then adding a lush velvet cushion and pillow. The result was a fantastic focal point for her breathtaking "Home Office Hideaway." The lucky buyer will get the custom cushion and pillow along with the chair. 
Finally, we love this Petite Pink Flower Garden Seat that Janie Molster of Janie Molster Designs used for her poolside patio she aptly named "In The Pink." This piece can go anywhere, but it certainly was pretty in Molster's unapologetically feminine space. 
Here's a few last looks at this year's showhouse. It was an honor to be a small part of its success, all to benefit a worthy charity for our local community.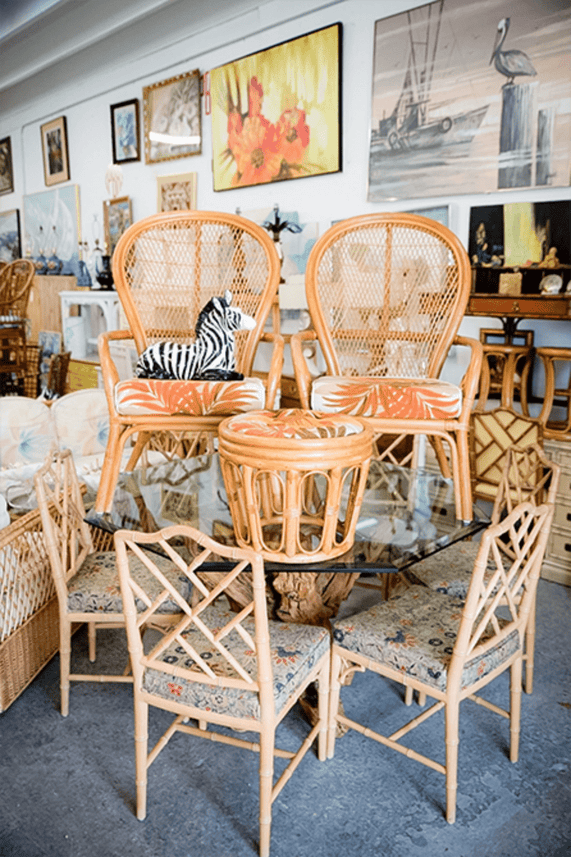 VISIT OUR SHOP
850 OLD DIXIE HIGHWAY
LAKE PARK FlORIDA 33403
TUESDAY THRU FRIDAY: 11:00 AM - 5:00 PM
SATURDAY: 12:00 PM - 4:00 PM
561.252.7381