Dear Diary
Island Style Friendsgiving
Our shop owners, Korinne and D.J., invited Palm Beach Illustrated Magazine to an Island-Style Friendsgiving celebration held at their charming home in the historic El Cid District of West Palm Beach.
The Spanish style home built in the 1920s exudes our Palm Beach Regency signature style. It is filled with carefully curated vintage pieces that honor the home's heritage, but the more serious pieces are balanced with fresh pops of color and tons of whimsy.
The custom table, which doubles as a ping pong table, was set with many vintage finds that are now on sale on our website and in the shop. Linens from Freshly Set inspired the rich color scheme of teal, amber, and pink.
Korinne layered in glassware in bright colors, textured placemats, brass flatware, carved wooden monkey pod bowls, and shell plates.
Then the florist, Ty M. Austin with Austintatious Designs, created a stunning centerpiece made of an abundance of exotic fruit, natural shells and tropical flowers that brought the entire look together. For the florals, he used free spirit roses, mini mango calla lilies, and pink anthurium combined with mini orchids and lots of palms.
The island style menu was inspired by Korinne and her husband's Thanksgiving travels to Anguilla. It included calypso pork, rice and beans, coconut-topped sweet potato bake, mango cranberry relish, and bacon-wrapped green bean bundles. Rum cake and mini key lime guava tarts were the desserts. Throughout the evening, the Pyrat rum punch was flowing.
Guests included old and new friends! Gaby Viteri, Sarah Cooke, Nic Breeding, Sarah Bray-West and her husband, Eric, and Carling and Tom Pinckney rounded out the guest list.
Check out the November issue of Palm Beach Illustrated Magazine available on news stands. Or read the full article online and see more photos from the fun evening.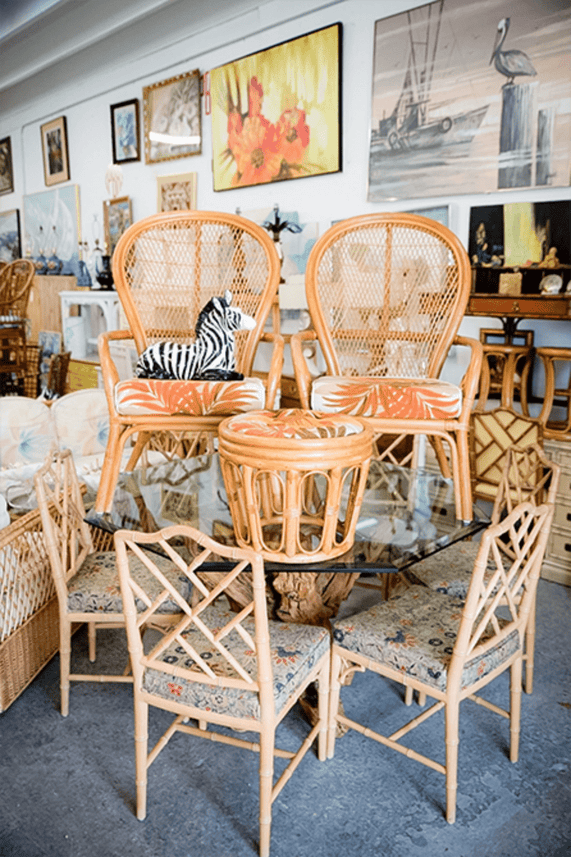 VISIT OUR SHOP
850 OLD DIXIE HIGHWAY
LAKE PARK FlORIDA 33403
TUESDAY THRU FRIDAY: 11:00 AM - 5:00 PM
SATURDAY: 12:00 PM - 4:00 PM
561.252.7381