Dear Diary
Freshly Picked Florals for Spring
Flirty florals are popping up everywhere, and our showroom is in full bloom. From pretty petaled lighting fixtures to sofas bursting with vibrant bouquets, PBR has it all. Here's a few of our hand-picked flowery favorites to help inspire your Spring home look.
How cute is this garden seat? The bold blossoms and vibrant color scheme scream "Spring." Place it at your front door for a pop of freshness or position it next to the tub to hold your bath essentials. This beauty is such a practical piece that it can really go anywhere.
It's hard to believe this darling lily chandelier hasn't been plucked up yet. It's delicate and bold at the same time, and just perfect for a girl's bedroom or any space that needs a touch of femininity and fun.
We get that a floral chintz sofa isn't for everyone. But this one, with its graceful curves and quality craftmanship, is a stunner. They don't make them like this anymore. Go ahead and ditch the classic cabbage rose upholstery if you must and make this masterpiece your own. We won't be mad.
Finally, who doesn't need a huge flower cart? Seriously though, this unique piece is bursting with personality and could serve as the perfect focal point for a baby shower, wedding or any sort of Spring Fling. Display party favors, use it as a bar, a dessert station or load it up with FLOWERS! This piece would also be a great place to store towels by the pool or potting tools in the garden. The possibilities are endless.
Large Island Whimsy Outdoor Cart
Happy Spring! We hope you'll come for a stroll through the shop soon.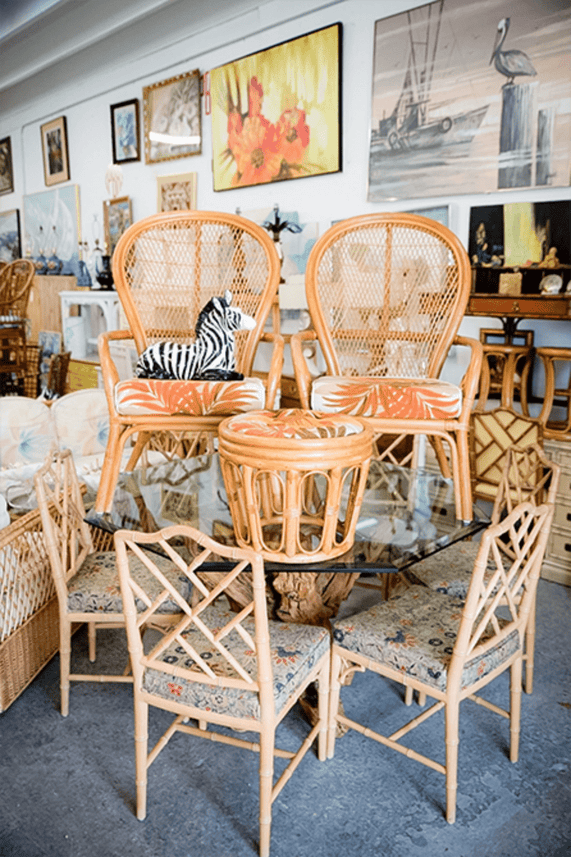 VISIT OUR SHOP
850 OLD DIXIE HIGHWAY
LAKE PARK FlORIDA 33403
TUESDAY THRU FRIDAY: 11:00 AM - 5:00 PM
SATURDAY: 12:00 PM - 4:00 PM
561.252.7381