Dear Diary
Tropical Wedding with P.B.R Touches
Planning a wedding? P.B.R has so many special pieces that can add personality and style to your big day, and our Team Member Kim P. just proved it! When her daughter announced her engagement, she knew immediately that the nuptials would take place at Old Fort Bay in the Bahamas and the look would be tropical and island-y with bold touches of our trademark Palm Beach Regency style. 
Kim started with a shapely shell mirror, which provided a great focal point and reflected the beautiful beach setting where the ceremony took place. At P.B.R, we have a gorgeous collection of heirloom-quality shell mirrors created by local artists. We suggest using one for your wedding, and then hanging it in your home after the festivities as a reminder of your happy day.
Look at this pretty new arrival, Sanibel Island Shell Mirror, and check out our website for more.
Next, Kim placed a pair of quintessentially-P.B.R peacock chairs at the head table for the bride and groom. A great peacock chair brings instant style and whimsey to any space, and we almost always have a few in stock.
We love this Painted Rattan Peacock Chair.
Rattan lanterns were hung above the dance floor and were enhanced with tropical greenery and orchids. Lanterns bring a warm glow to a setting and are a must for an outdoor event.
The 70s Chic Rattan Chandelier has such a fun shape.
Finally, Kim knew that a proper P.B.R style party isn't complete without a great looking, well stocked bar or two. The Island Chic Rattan Bar is as functional as it is fabulous. The caned front is stunning and there are three large open shelves in the back for storage.
So, if you are planning a wedding and love our style, come see us. We'd love to help you find that perfect piece for your special day.
And if you're looking to fill your newlywed home with one-of-a-kind pieces, consider creating a P.B.R Wedding Registry with everything from home and tabletop décor to gift cards to help you furnish your home.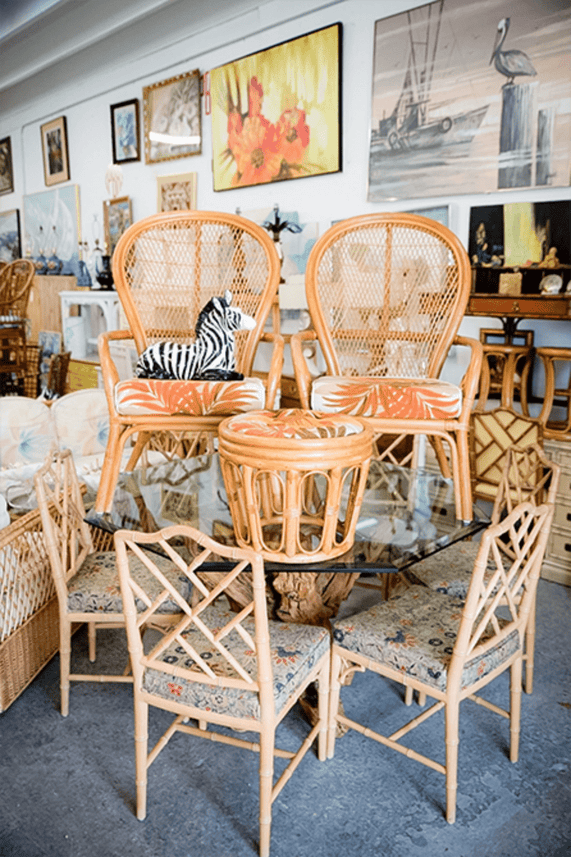 VISIT OUR SHOP
850 OLD DIXIE HIGHWAY
LAKE PARK FlORIDA 33403
TUESDAY THRU FRIDAY: 11:00 AM - 5:00 PM
SATURDAY: 12:00 PM - 4:00 PM
561.252.7381