Dear Diary
A Grand Event in P.B.R Style
Time always flies over here, but we can hardly believe it's been a couple weeks since the grand opening event for our new West Palm Beach Showroom. On Thursday, May 18, we celebrated with live music, gourmet snacks, hand-crafted cocktails, and gorgeous tropical florals. The event drew at least 200 diehard vintage lovers who, lucky for us, weren't deterred by the rain. 
If you couldn't join us for the festivities, we think you need to add our new showroom to your MUST SEE list for this summer. The 1,200-square-foot boutique (tiny compared to our original warehouse location) is jam-packed with inspiration, fab furniture finds and chic home goods.
We are thrilled to have Chelsea Lane, who has the largest public library of high-end fabric and wallpaper in the Palm Beaches, right next door! It's our hope that this partnership will provide the type of one-stop shopping our customers crave.
Speaking of great partnerships, we want to say a great big thank you to all the vendors who helped make our grand opening event such a success: 
Cheeseboards by Boards by Nat // Custom Cocktails by Shaking Aces // Showroom Florals by Austintatious Designs // Sushi by Sushi Hara // Photography by Capehart Photo // Floral Display Wall by Mellow Creative Club
Hours for our new showroom will be the same for the warehouse: Tuesday-Friday, 10am to 5pm and Saturday, 11am to 4pm.  To find the new space, look for our signature stripes in the SoSo Design District at 5710 South Dixie Highway and official signage going up soon. Very exciting!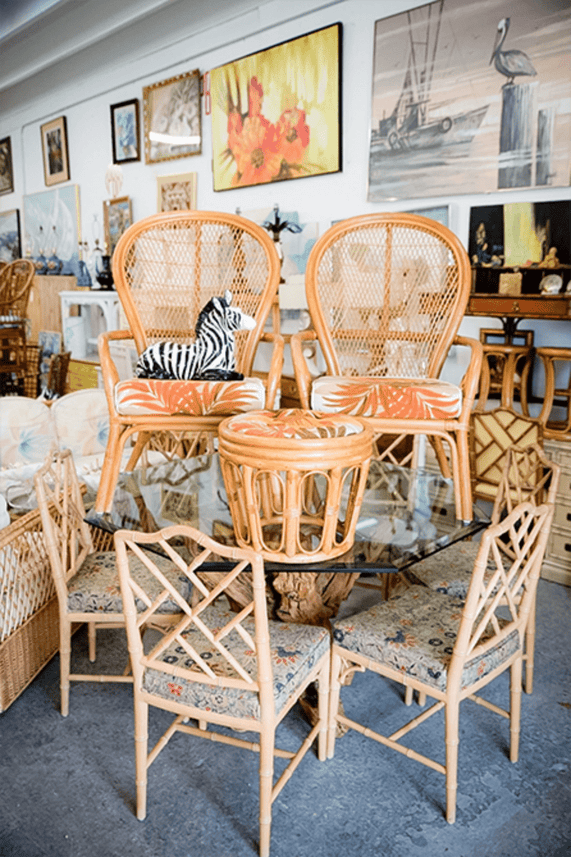 VISIT OUR SHOP
850 OLD DIXIE HIGHWAY
LAKE PARK FlORIDA 33403
TUESDAY THRU FRIDAY: 11:00 AM - 5:00 PM
SATURDAY: 12:00 PM - 4:00 PM
561.252.7381