Dear Diary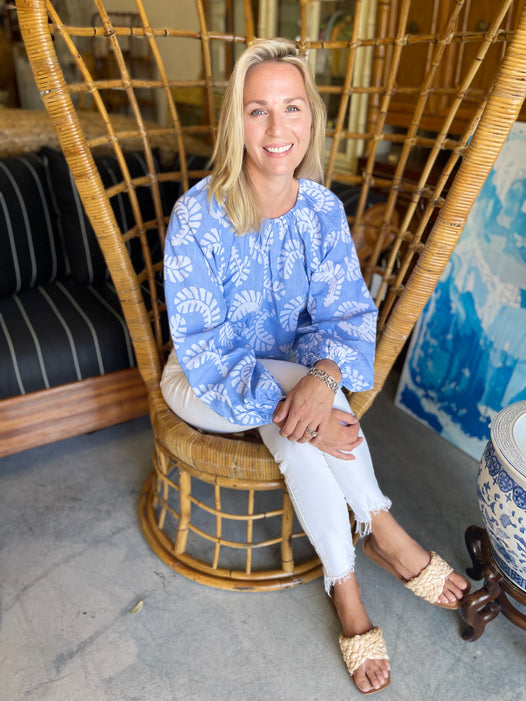 P.B.R Team Takeover: Kim M. Edition
While Korinne is at the Round Top Antique Show in Texas, the P.B.R team is pitching in overtime. We will feature our fabulous team here on the blog all month. Keep an eye on Instagram @PalmBeachRegency as they will take over with their favorite picks for our daily Top New Arrivals.
Hi! My name is Kim Miranda, and I have been working at Palm Beach Regency since October 2021. Outside of work, you can find me chasing after three young boys (two human and one furry) and spending time with friends and family.
I previously worked in the environmental field restoring Palm Beach County's beautiful beaches. During that time, I developed a deep appreciation for all the natural beauty found along our coastlines. I am inspired by the surrounding coastal blue waters and all the natural treasures you can find walking along the beach.
While I am at Palm Beach Regency, you can usually find me taking photographs of new inventory or editing the photos that are then posted to the website. I also help with other web related Palm Beach Regency items and help prepare the new inventory when it arrives.
The best part about working at Palm Beach Regency is my coworkers! Everyone who works at Palm Beach Regency is uniquely talented, and I really enjoy getting to work together in such a creative and inspiring space.
I do, also of course, love all the vintage furniture and unique pieces that find their way to the store. My appreciation for vintage furniture has definitely grown over this past year!
I would describe my personal design style as Florida coastal mixed with a breezy island feel. My own home includes lots of shades of blue, seashells, vintage rattan, striped fabrics and fresh flowers.
One of my favorite pieces at Palm Beach Regency is the pair of Coastal Cane Twin Headboards, which are perfect for using in a guest room. I love the simplicity of the white with the caning.
Between the twin beds I'd place the adorable Tortoiseshell Side Table topped with the very Palm Beach-y Tole Palm Tree Lamp so my guests would have some light! Sadly, this palm tree lamp just sold, but we do get similar ones in all the time.
Finally, because all guests need a very comfy chair for relaxing, I'd add the Palm Beach Chic Upholstered Pagoda Arm Chair and reupholster it in a beautiful blue and white fabric.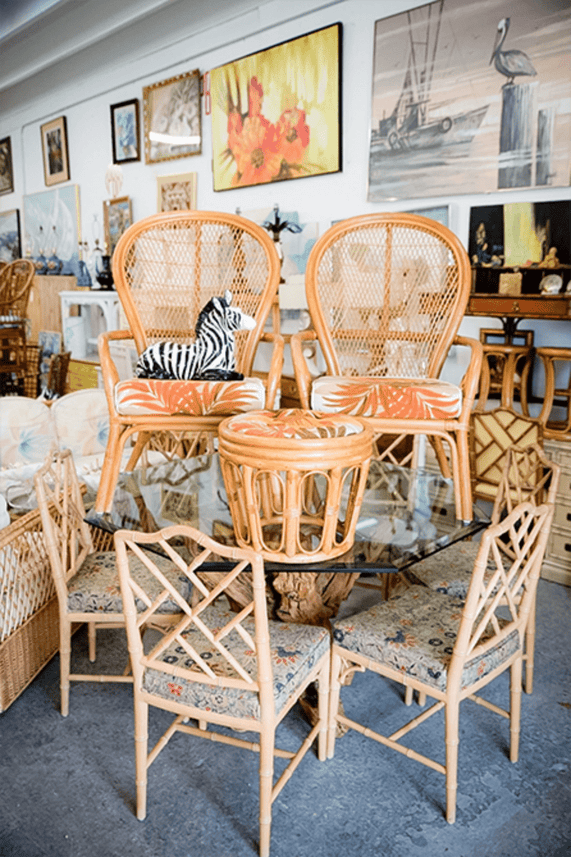 VISIT OUR SHOP
850 OLD DIXIE HIGHWAY
LAKE PARK FlORIDA 33403
TUESDAY THRU FRIDAY: 11:00 AM - 5:00 PM
SATURDAY: 12:00 PM - 4:00 PM
561.252.7381