Dear Diary
New Year, New Hue
You heard it here first: Green is the new blue for 2022! Of course, we will ALWAYS love a classic blue and white color scheme, but this year we are craving something fresher. 
From the softest shades of sage to the brightest shocks of chartreuse, we are here for all of it. And the best part? Green is prevalent in nature, so it plays nicely with other colors and is easy to incorporate into your home. Here's a peak at some of our favorite green gems available in the shop or online now.
Want to make a huge statement on your patio? Look no further than this grasshopper green set of Meadowcraft outdoor furniture. It's been freshly powder coated, which means it will withstand the harsh Florida heat for years to come. We suggest adding comfy cushions in a fun print and whipping up an oversized pitcher of margaritas, because your friends will never leave. Two pairs of chairs, a settee, a bench, and an ottoman are available, all sold separately.
Want a softer look? This beautiful sea green braided rattan loveseat works inside or outside in a covered area. Serene and ladylike, we see a pretty floral upholstered cushion adding the finishing touch to this piece. By the way, this shade of green loves pink! It's a combo that will never go out of style, especially in the Palm Beaches.
Sea Green Braided Rattan Loveseat 
Every room needs a little patina, so make everyone you know green with envy with this copper bamboo leaf mirror. It's perfect for a small entryway or a powder room and it will only get better with age. This beauty would really pop on a fabulous bamboo motif wallpaper or grasscloth.
And finally, we love these fun sea horse lamps! They are ceramic with a gorgeous emerald glaze - great for a child's bedroom or for anyone who loves the ocean and a beautiful shade of green!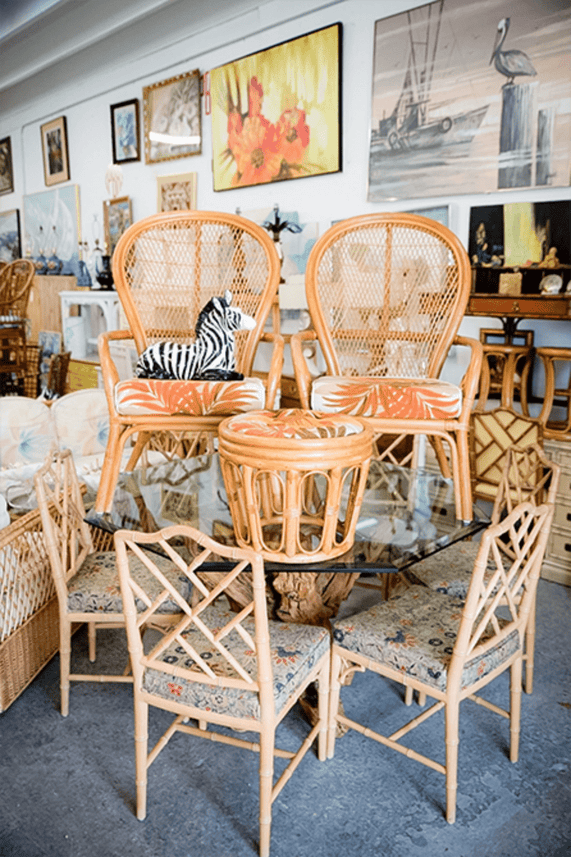 VISIT OUR SHOP
850 OLD DIXIE HIGHWAY
LAKE PARK FlORIDA 33403
TUESDAY THRU FRIDAY: 11:00 AM - 5:00 PM
SATURDAY: 12:00 PM - 4:00 PM
561.252.7381